Inter-surface mapping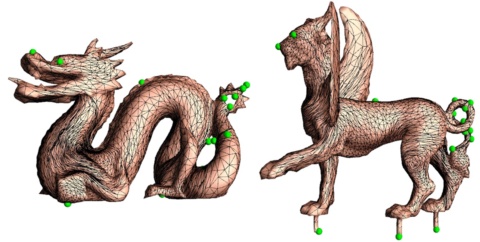 ACM Trans. Graphics (SIGGRAPH), 23(3), 2004.
Automatic creation of low-distortion parametrizations between meshes.
Abstract: We consider the problem of creating a map between two arbitrary triangle meshes. Whereas previous approaches compose parametrizations over a simpler intermediate domain, we directly create and optimize a continuous map between the meshes. Map distortion is measured with a new symmetric metric, and is minimized during interleaved coarse-to-fine refinement of both meshes. By explicitly favoring low inter-surface distortion, we obtain maps that naturally align corresponding shape elements. Typically, the user need only specify a handful of feature correspondences for initial registration, and even these constraints can be removed during optimization. Our method robustly satisfies hard constraints if desired. Inter-surface mapping is shown using geometric and attribute morphs. Our general framework can also be applied to parametrize surfaces onto simplicial domains, such as coarse meshes (for semi-regular remeshing), and octahedron and toroidal domains (for geometry image remeshing). In these settings, we obtain better parametrizations than with previous specialized techniques, thanks to our fine-grain optimization.
Hindsights: No hindsights yet.
ACM Copyright Notice
Copyright by the Association for Computing Machinery, Inc. Permission to make digital or hard copies of part or all of this work for personal or classroom use is granted without fee provided that copies are not made or distributed for profit or commercial advantage and that copies bear this notice and the full citation on the first page. Copyrights for components of this work owned by others than ACM must be honored. Abstracting with credit is permitted. To copy otherwise, to republish, to post on servers, or to redistribute to lists, requires prior specific permission and/or a fee. Request permissions from Publications Dept, ACM Inc., fax +1 (212) 869-0481, or permissions@acm.org. The definitive version of this paper can be found at ACM's Digital Library http://www.acm.org/dl/.