Digital photography with flash and no-flash image pairs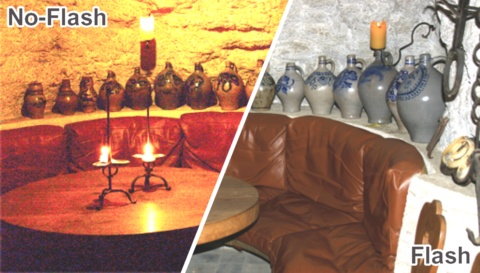 ACM Trans. Graphics (SIGGRAPH), 23(3), 2004.
Combining detail of a flash image with ambient lighting of a non-flash image.
Abstract: Digital photography has made it possible to quickly and easily take a pair of images of low-light environments: one with flash to capture detail and one without flash to capture ambient illumination. We present a variety of applications that analyze and combine the strengths of such flash/no-flash image pairs. Our applications include denoising and detail transfer (to merge the ambient qualities of the no-flash image with the high-frequency flash detail), white-balancing (to change the color tone of the ambient image), continuous flash (to interactively adjust flash intensity), and red-eye removal (to repair artifacts in the flash image). We demonstrate how these applications can synthesize new images that are of higher quality than either of the originals.
Hindsights:
Equation (9) in the paper has a typo; it should be "Cp = Ap / Δp".
I really like the image deblurring work of Yuan et al 2007 which uses a blurred/noisy image pair.
See also my earlier work on Continuous Flash (demo).